Lance Armstrong is jittery about his participation in the next
Tour
, which begins in July. The cycling star has come out of
"retirement"
(gross) to participate.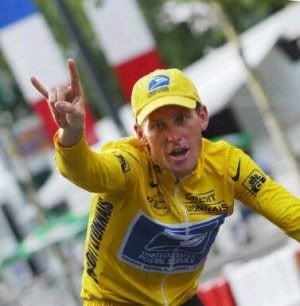 Armstrong fears his
frenemies in France
might make mischief. He's probably worried they'll
tamper with his samples again
.
I guess he doesn't realize there are plenty of detractors right here. And I'm not talking about the
Sheryl Crow
fan club. Some, like
George Carlin
, are no longer with us. Others are
very much alive
.
Lance: be afraid!